The Easy Way for Mums to Improve Their Wellbeing
Feel calmer and more energised by practising yoga in a way that's sustainable for your busy life.
Is Juggling Your Career and Family Commitments Putting You at Risk of Burnout?
You've worked hard to build a career you love, and you have big goals.
But, now that you have kids, there are so many pulls on your time that you can't care for your wellbeing effectively.
Your love and dedication for your family and your work mean that you'd rather burn out than quit, so more and more, you find that you're:
zoning out
snapping at people
tired all the time
using unhealthy coping strategies
If this is your life right now, please know, it's not your fault. 
Gender inequalities caused by societal programming mean women STILL take on the lion's share of responsibilities.
Hi, I'm Nicola
I totally understand how overwhelming it feels to believe you have NO CHOICE but to keep pushing through, without taking the time to recharge, because you just can't find the time to get to that yoga class every week.
I used to really struggle with that too, before I started practising yoga at home, in a way that works for me.
I can teach you the method I use to help myself and the unstoppable women, just like you, in my Recharge membership.
You Don't Have to be Overwhelmed Anymore
With the RECHARGE membership, you'll be able to create a fast and effective home yoga practice you can sustain, no matter what.
So you can stay at the top of your game at work and watch your kids eyes light up as you greet them with a big smile at pick up time.
Join Recharge Now
Your Path to Success
In Recharge, I will take you through my 5-step 'Membership Journey'. This is designed to help you get results in the quickest and most sustainable way for your busy life.
You have complete freedom to go at your own pace. So, you can go as fast or as slowly as you like through each stage to create a self-care practice that's truly unique and perfectly suited to you.
Get Results Faster
Save time and experience noticeable results faster by focusing on going deeper into one practice for a whole month. Each month you'll get:
On-Demand Yoga
SAVE TIME by doing the same 30-minute yoga for one month.
Why? Because the more familiar the sequence becomes, the more meditative your practice becomes. You'll feel instantly calmer and will find it easier to stay in the moment.
Plus, no more overwhelm, or time wasted searching through videos!
Start with as little as 2 x 30-minute practices per week.
Monthly Q&A
Go Deeper Faster & Practise Safely.
Never feel stuck! All your questions answered each month, so you make progress faster and keep gaining momentum.
Feel confident in your ability to practise yoga safely when you know how to modify poses to suit you.
Accountability
Find Your People.
Our private online community is a safe space where you can connect with likeminded women. 
The support and accountability you'll get from being part of this community helps you to stay motivated and make your practice sustainable.
Practical Strategies You Can Use Anytime
Learn simple yet ridiculously effective techniques to help you release intense feelings in the moment... Great for those times when it's all starting to feel a little bit too much but you can't just run off and do your yoga practice.
EFT/ Tapping
Learn how to use Emotional Freedom Technique (EFT) to reduce intense emotions in minutes and release limiting beliefs that may be holding you back.
Pranayama
Learn pranayama (breathing) practices that you can use to connect with different forms energy as and when you need them.
You'll find practices to help you burst through the morning brain fog, quieten your mind so you can fall asleep and everything in between.
Meditation
Learn different types of meditation and begin practising the one which facilitates growth within you.
Don't worry if sitting meditations aren't your thing, you'll have the freedom to choose the type of meditation that's most enriching and enjoyable for you.
I love being part of this community!
After many attempts at trying yoga over the years, I've finally found a way of making it all work for me, thanks to this group. I'm proud of myself for finally being able to stick with something that I've wanted to do for a very long time.
Anne MacIntosh
Business Advisor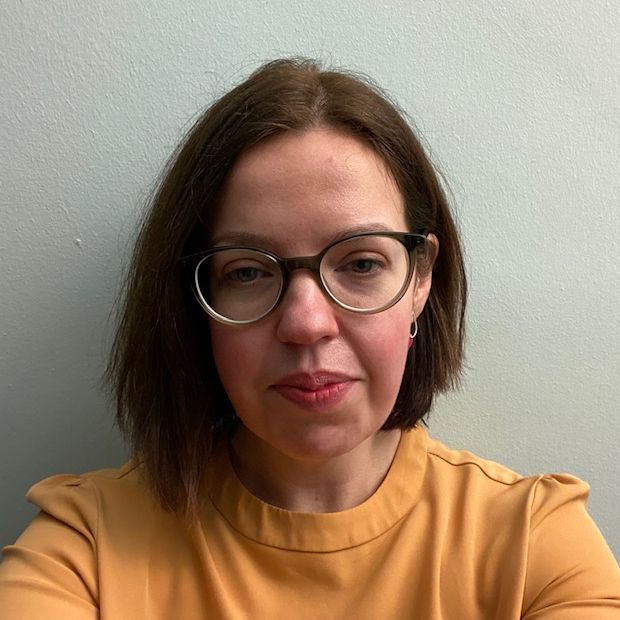 I can practise when it fits with my life!
I am totally converted to Nicola's approach to yoga and am now practising 3-4 times per week. Before Recharge, I was doing one live online class a week but if the class time clashed with other things, I'd miss it and then do no yoga at all that week. If you engage with the membership, it will make a huge impact on your flexibility, strength, health, well-being and your ability to manage all other areas of your life.
Katy Henry, PhD
University Project Coordinator
Better Than Money Back Guarantee!
If, for ANY reason, you join Recharge and you decide it's not for you, send an email to [email protected] within 30 days and I'll refund you, no questions asked and no hard feelings (promise!)
PLUS, if after 6 months of practising Recharge yoga at least twice per week, you don't notice any difference in how you feel and how you respond to stress, not only will I issue you with a full refund, I'll work with you 1:1 until you do.
Is Recharge Right For Me?
Recharge is NOT for you if:
You're looking for a quick fix
You're too busy to commit 30-minutes to your yoga practice at least twice per week
You want live classes
You have a fixed mindset and don't believe you have the power to improve your life
Recharge is PERFECT for you if:
You're motivated and are excited to commit 30-minutes of your time at least twice per week to doing the work
You want to be present in your life and with those you love
You have goals/ dreams for what you want from life
You understand personal growth is vital for helping you to achieve your goals
You're in it for the long haul
You cheer others on and see their success as proof of what's possible for you
Join Recharge Now
Joining the Recharge Membership is as Easy as 1,2,3...
Sign Up
Click the button below to join and complete the checkout process.
Cancel anytime.
If, within the first 30 days, you decide it's not the right fit for you, email [email protected] and receive a full refund, no questions asked.
Open Email
Go to your inbox and open your welcome email. Watch the video in the email on navigating the members hub.
Get Started
Click the hub link in the welcome email to enter the members hub. Complete the quick and easy onboarding action steps. Begin practicing yoga!
I'm so busy, how will I fit it in?
How much time do I have to commit to see results?
Am I signed up to a minimum term contract?
Why does RECHARGE cost more than many other online yoga memberships?
Why should I join RECHARGE when I can get yoga for free elsewhere?
How is Recharge different from other online yoga memberships?
What if it doesn't work for me?
Do I need previous yoga experience?
What equipment will I need?
Joining Recharge was the BEST decision I've ever made!
Before I joined Recharge, I used to get so stressed and worried over work that I'd bring it home with me and take it out on my family...  I felt like I couldn't slow down and I'd get upset or angry with everyone.
Now, I'm able to relax a lot quicker and forget work in the evenings. Being able to practice yoga at least twice a week makes me feel much more balanced. I'm a nicer wife and mum. And I love carving out some time to myself, which I now do guilt free!! 
Rebecca Guest
Join Recharge Now